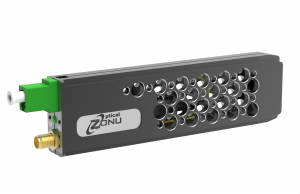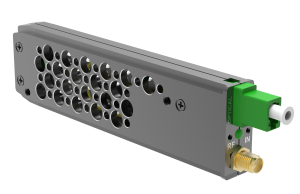 Available for L-Band (.010-3GHz) and .01-6GHz
J4 module can be 1310 nm, 1550 nm or CWDM capable
Includes a 50-ohm SMA RF and LC/APC interface
J4 Module has Operating temp range from -20C to +65C – while packed at high density
J4 Module has +5v USB compatible interface – enables integration and monitoring (+3.3V operating voltage is an option)
When J4 module can be densely packed (4 each) in J84 Tray and used in the 1U modular J-Series
Unit status can be viewed via chassis USB, Ethernet/SNMP and/or standalone monitoring software
The J4 module is based upon Optical Zonu's OZ101 product family (in production since 2007) and offers the same user-friendly USB interface.  The J4 with its newly packaged heat-sink shell design enables very high-density integration.
Optical Zonu's world-class customer support along with our integration partners ensure that your organization will be supported from design and installation, through management, if required.   The Optical Zonu J4 solution delivers support for all applications up to 6 GHz.
According to Farzad Ghadooshahy, CTO and co-founder of Optical Zonu Corporation "when configured for 3G, 4G or 6GHz the J4 provides customers an almost endless variety of options to meet their bandwidth and application requirements."
The J4 will also support Satcom, L or S band, Transporting Cellular bands for Mobile broadband services such 700LTE, PCS, AWS or CBRS, LAA bands by selecting appropriate version of the J4 modules".
For more information about our J84 Tray please click here
For more information about our OZJ4 or OZJ84 please contact Frank Berardi directly at 818 780-9701 Ext 242